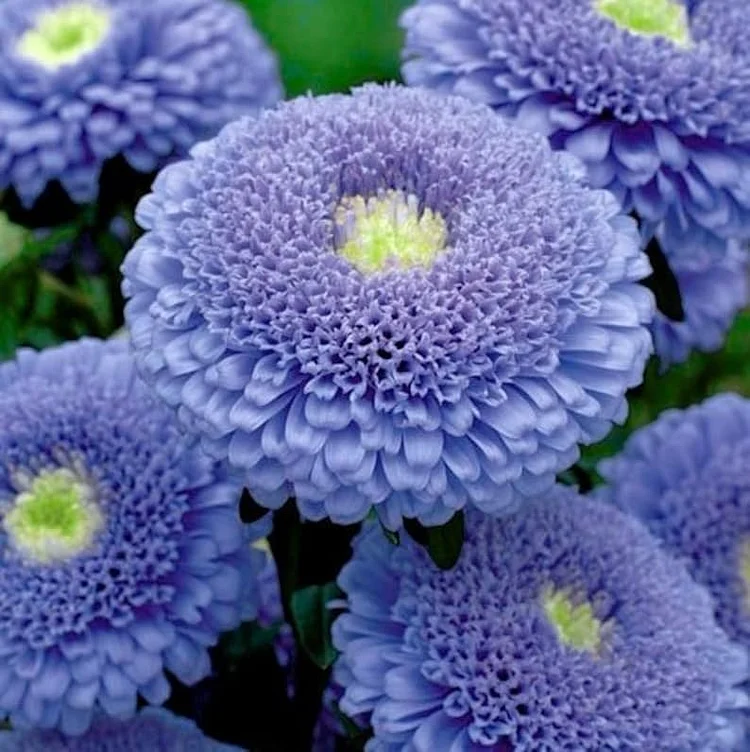 Description
The double-flowered Sidonia aster is an annual plant with a regal appearance. It constitutes a great garden decoration at the end of summer and the beginning of autumn. Its large flowers form a colourful island on the background of slowly wilting plants. This alone should convince you to find some place for them in the garden. The colourful flowers of the Chinese asters allow you to keep the summer vibes for a longer time.
The blue Sidonia aster dazzles with the double, dense flowers. They are large, spherical and look almost like the Princess varieties. The rich, extremely ornamental flower heads sit atop the erect stems.

The plants of this cultivar grow up to 80 cm and develop a semi-spreading appearance. The bright green foliage does not have a special ornamental value, but still underscores the colours of the flowers. The Sidonia asters are recommended for perennial borders and seasonal garden groupings. They look great planted alongside fences, walls and around the wooden gazebos. They constitute excellent cut flowers as they remain fresh in vases for a long time. A colourful, charming aster bouquet will keep the memories of summer at your home and add an idyllic touch to the interior arrangement.
Height: 80 cm
Use: ornamental - borders, garden groupings, cut flower
Blooming time: July - September
Growth form: erect, semi-spreading
Flower colour: Blue
Vegetation form: annual
Flower type: double
Site: sunny, warm; nutrient rich, constantly moist soil