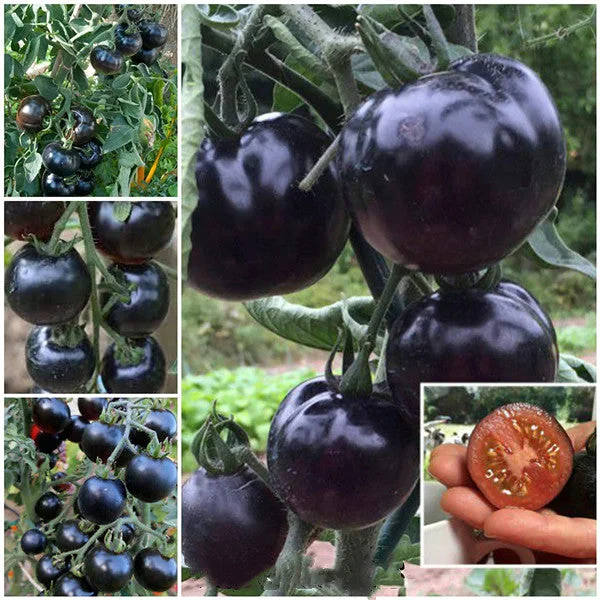 Indigo Rose is classified as a "blue" tomato. Blue tomatoes are actually closer to black but they contain the same anthocyanins found in blueberries.

They are an intense black color when exposed to full sun. Whatever part of the tomato is facing the sun, will be jet black. This means that is oh have it growing in full sun, you find to have tomatoes that are almost entirely black.

The insides are a beautiful contrasting red.

These are a cherry type in size and are sweet and delicious with "plummy" overtones. This is an indeterminate variety meaning it can get 5-7 feet tall with hundreds of tomatoes!

I personally prefer small tomatoes such as cherry or plum as an organic gardener because they develop fast and you can usually get to them before the critters do!

Sprouts in 1-2 weeks. Grow in spring or summer in cooler climates and just about any time of year in warmer climates. Can be started indoors and transferred outdoors in spring. Prefers temps between 65-85 but I grow them year round in 90+ degree temps! Harvest in 90 days and continuous harvests for as long as the plant lives.

This is for 20 Heirloom, organic and Non GMO seeds. Certified Organic by MOFGA (Maine Organic Farmers and Gardeners Association)

I combine shipping on all seed orders, you pay one flat fee for as many seeds as you would like for no additional shipping. Orders over $39 for any combination of items in my shop ship for free!

All of my seeds are tested and guaranteed. Most of my seeds are fresh off of my own plants.