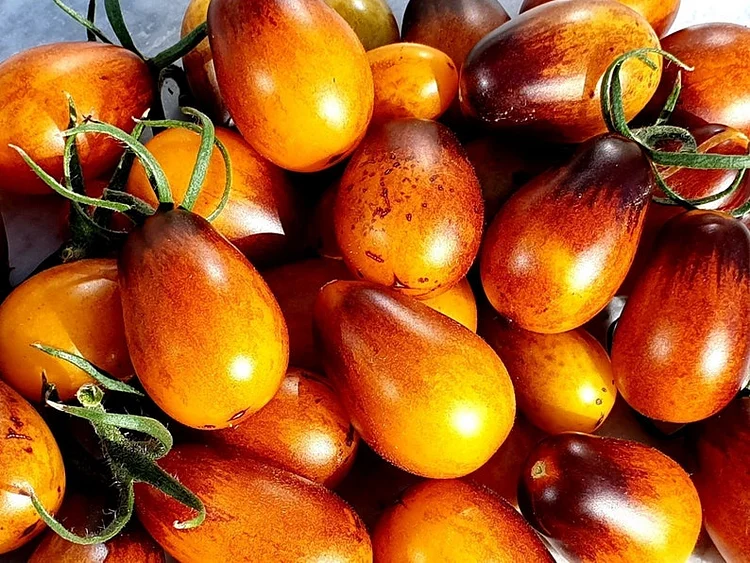 Description
50+ Indigo Pear Drops Tomato Seeds! Heirloom, Open Pollinated, All Natural, Non GMO! Limited Quantity!

The 1″ pear-shaped fruits have purple/black shoulders at maturity due to high anthocyanin levels. Excellent sweet flavor. Huge yields of 7 gram fruits under ideal growing conditions. Bred by Dr. Jim Myers at Oregon State using traditional plant breeding techniques. The fruits draw their color from the wild tomatoes found in the Galapagos Islands and Peru.

Indeterminate. 65 days from transplant.
It takes full sun and organic rich, well-draining soil to grow these delicious tomatoes. Sow them indoors 6 weeks before the date of your last frost for best results (but you can also sow them directly in the soil when the danger of frost is passed). Sow seeds 1/8 inch deep and place flats or containers in a warm location of 65 to 75 degrees Fahrenheit (18-23 C.) for quick germination. Seeds germinate in 7-14 days. Keep containers moderately moist. Transplant outdoors after hardening off when all danger of frost is past. Tomatoes have a unique ability to grow extra roots along their stems, which helps the plant to become better established and take up nutrients, so it is wise to dig a deep hole and plant the tomato so that the bottom few inches of stem are below the soil line. Space plants 30 to 36 inches apart and set up stake or cages to train plants as they grow.
Plants are happiest in soil that's well-draining with a pH level of 6.2 to 6.5.

They require a full sunlight location – a minimum of six hours per day.

Refrain from planting until the chance of frost is past. Use a cloche or plant cover to protect new seedlings if adverse weather sets in (i.e. cold, wet, and windy conditions).

Be sure to leave ample room between planting holes – the fruit may be small, but the plants can grow big and bushy.

Set your cages or stakes in place when planting to avoid disturbing the roots later.If you're growing container plants on a balcony, tie the stems to the railing to eliminate the need for cages or stakes.

When planting, pluck the lowest stems and shoots from the main stalk. Then bury the plant close to the lowest remaining set of leaves, one to two inches away. The buried, stripped stalk will produce more roots for stronger growth.

To prevent future problems like blossom end rot, mix a small handful of lime or Epsom salts into the planting hole, together with compost. Both increase magnesium levels, which can be blocked by high concentrations of calcium and potassium in the soil.

Pinch out suckers as they appear, to redirect energy into fruit production. These are the small branches that appear in the "V" formed between the main stalk and branches.
Plants perform best with a deep weekly watering rather than frequent light watering.

Harvest when the fruits have changed to their expected color. This can be from six to 10 weeks after pollination, depending on the weather and the varieties you've chosen.

We, at The Mossy Old Cottage are lovers of beauty, flavor, variety, wildcrafting, handmade and homegrown stuff, and we are excited to share with you what we create, grow, or gather from the wilderness! We've traveled and lived in different continents and we've gathered quite a nice collection of seeds from around the world, which we also love to grow in our own garden! For us, there is no other way of gardening than using totally organic and sustainable methods - as it is our way of life for many years now! We only offer to others what we would consume or use, so be reassured that not one gram of chemicals have been used in our garden, situated on a very remote and wild mountain region (800m elevation)! We have only very limited quantity, as we are not commercial growers - just a small family homestead that love gardening, and in this case love tomatoes!
Please know that while we try to plant the different varieties at some distance between each other, cross pollination might occur, as we are small home growers, and not industrial.

Also we always love to put extra seeds for you, because we are true gardeners at heart! Happy gardening!

Dear friends, please know that we're trying our best to package and ship all orders as fast as possible! Until now, all orders were delivered to our local post office within hours of the order being placed. However, once in the hands of the postal office, we have no further control of any package. We have not experienced any lost packages so far, our policy is to replace them or refund your money if they do get lost. Since we are sending them from Romania, Europe, please allow adequate time, depending on your location. See average delivery times by location below.
We normally choose a shipping method that is both economical and secure. There is no tracking of the package while in transit, but we strive to send each client a photo of the package once it's in the hands of the mail service.
If you wish for a shipping method that is tracked, please contact us, but be aware that it costs a little bit more and is a little slower, since it requires the package to be registered at every transfer location.

Average delivery times by destination:
Europe: 1-2 weeks
USA: 2-3 weeks
Others: 3-5 weeks