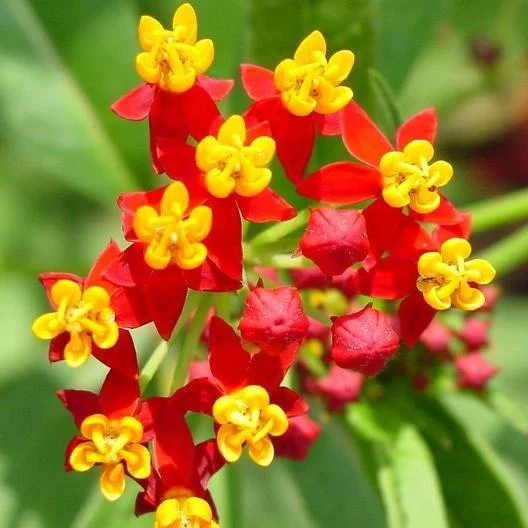 PRODUCT DESCRIPTION
Grow Heirloom Bloodflowers / Sunset Flowers - Plant Bloodflower / Sunset Flower Seeds
A unique and stunning Asclepias variety - Bloodflower or Sunset Flower - is a highly cherished plant with stunning flowers mimic the colors of sunset. The Bloodflower is lesser known perhaps, but more colorful than its cousin, Asclepias tuberosa, Butterfly Milkweed. Covering itself with gorgeous flowers of orange, yellow and red in midsummer, Bloodflower/Sunset Flower is a real dazzler in any wild garden.
Annual pollinator attractor with bright red & yellow blooms
Summer blooming and deer resistant, this variety can grow in nearly any soil
Thrives in bright, sunny growing areas
FAST FACTS
| | |
| --- | --- |
| Name: | Bloodflower / Sunset Flower Seeds |
| Botanical Name: | Asclepias curassavica |
| Life Cycle: | Annual |
| Light Requirement: | Full Sun |
| Planting Season: | Spring |
| Plant Type: | Orange-Red Blooms with Yellow Clustered Flowers in Center, Upright Habit, Whorled Leaf |
| Features: | Heirloom, Attracts Pollinators, Attracts Hummingbirds, Container Garden, Cut Flower Garden, Deer Resistant, Poor Soil Tolerant |
| Color: | Red, Yellow |
| Blooms: | Summer, Late Summer, Early Fall, Fall |
| Days to Maturity: | 90-120 Days |
| Plant Height: | 40 inches |
| Plant Spacing: | 15-18 inches |
| Planting Depth: | 1/8 inch |
| Sowing Method: | Start Indoors, Direct Sow |
| Cold Stratification: | Yes |
| Seeds per Packet: | 300 mg |
| Seeds per Pound: | 90, 700 |
| Hardiness Zones: | 3, 4, 5, 6, 7, 8, 9 |
| Ships: | Year Round |
PLANTING INSTRUCTIONS
How to Plant Bloodflower
WHEN TO PLANT ASCLEPIAS SEEDS
Plant outdoors after the first frost begins in the fall in order to stratify the seed in time for Spring. To start indoors, seeds must be refrigerated 6-8 weeks before sowing in order to wake the seed from dormancy.
WHERE TO PLANT ASCLEPIAS SEEDS
Asclepias is a hardy plant that is native to the swamps of the U.S., and will easily grow in consistently damp or wet soils that drain well with access to full sun (6-8 hours of sun per day). Despite this, Asclepias will tolerate a wide variety of soil profiles, as long as they aren't consistently dry or overly sandy. Plant away from areas where pets frequent, as the sap of the Asclepias is toxic when cut.
HOW TO PLANT ASCLEPIAS SEEDS
Plant seeds 1/2-1 inch deep into the soil. When grown indoors, transplant into the garden 18-24 inches apart for best results.
HOW TO CARE FOR ASCLEPIAS
Asclepias is a low-maintenance plant that can live for several years if planted in the proper environment and will come back from a strong taproot every Spring. Asclepias will also readily spread itself via seeds in the late fall, but this can be controlled simply by removing all seed pods in the early fall before they release. Asclepias is a popular butterfly attractor, particularly of the Monarch Butterfly; as long as the plant is healthy, it will readily flower throughout the summer. Fertilization is not necessary. Putting mulch around each plant will reduce competition from weeds or other unwanted plants.