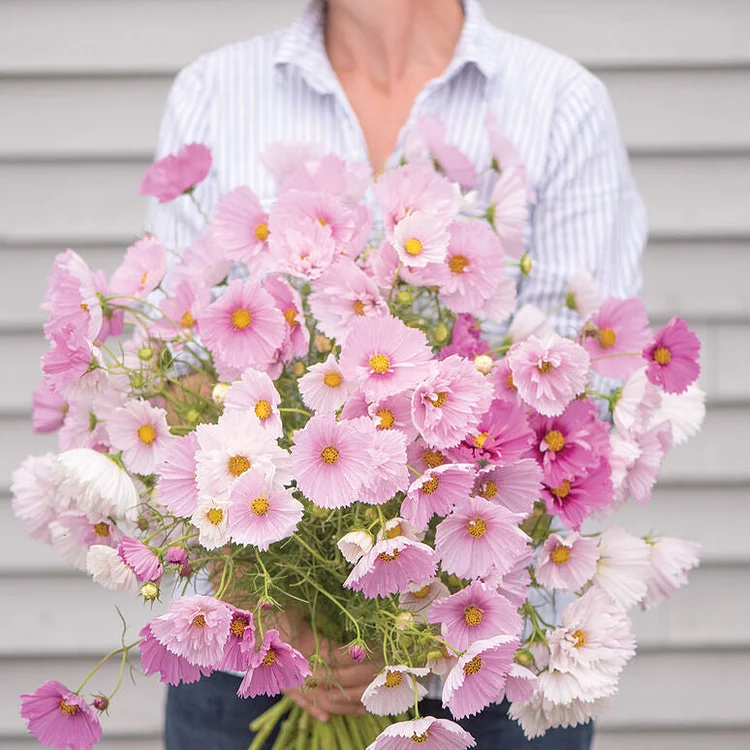 Common Name: Cosmos Cupcake Blush Flower 
Life Cycle: Annual 
Remarks: A brand new form of cosmos with cup shaped flowers and fused pleated petals. Flowers are different shades of blush in colour, and make an absolutely stunning cut flower. 
A small percentage of flowers have lovely, tufted centres. The cupcakes are a mix of singles and semi doubles + some will be solid and some will be streaked. 
Plant Height: 100cm
When: Spring + Summer (Winter in warmer climates)
Sewing Depth + Method: Covering seeds lightly. Pinch out your cosmos seedlings when the are 30cm tall (3 true sets of leaves). Pinching out means taking the top 10cm off your seedling. This will encourage a bushier foliage, and more flowers! 
Spacing: 30cm apart

Position: Full Sun 
Days until germination: 7-21 days
Seed to Bloom: 8 - 12 weeks
Harvest: Petals just opening, but not yet flattened.
Number of Seeds: 5