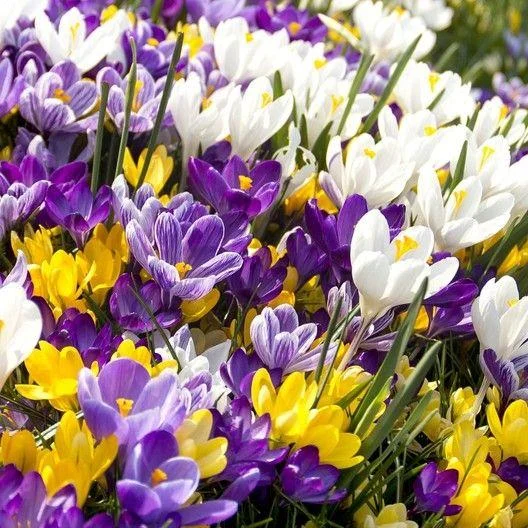 PRODUCT DESCRIPTION
All our top selling large flowering crocus & specie crocus bulbs in one perfect mix. Crocus Bulbs are a most welcomed harbinger of spring. Crocus Bulbs are not only beautiful, but also quite hardy and drought tolerant. Plant in either sun or partial shade, and water normally for best results. Crocus bulbs are also excellent attractors of beneficial bees, butterflies, and birds.
A perennial mix of best-selling large varieties
Easy to grow Spring bloomer that features a spectrum of colors
Thrives in full sun or partially shaded areas
FAST FACTS
| | |
| --- | --- |
| Name: | Crocus Bulbs - Large Flowering Mix |
| Botanical Name: | Crocus vernus |
| Life Cycle: | Perennial |
| Bulb/Tuber/Root Size: | 8-9 cm Circumference |
| Light Requirement: | Full Sun, Partial Sun |
| Planting Season: | Fall |
| Plant Type: | Large Flowering |
| Features: | Attracts Pollinators, Container Garden, Deer Resistant, Easy to Grow & Maintain |
| Color: | Mixed |
| Blooms: | Early Spring |
| Plant Height: | 4-6 inches |
| Plant Spacing: | 2-3 inches apart |
| Planting Depth: | 3-6 inches Deep |
| Hardiness Zones: | 3, 4, 5, 6, 7, 8 |
| Ships: | Fall |
PLANTING INSTRUCTIONS
How to Plant Large Flowering Crocus Bulbs
ABOUT CROCUS BULBS
For starters, it should be noted that crocus bulbs are not officially flower bulbs at all, but rather, corms. A corm is best described as a fleshy, bulblike base of a stem. Crocuses are hardy plants belonging to the Amaryllis family and are native plants chiefly of the Mediterranean region. They're some of the first flowers to pop their heads through the winter snow. You can expect to see crocuses blooming in February and lasting through about March. They're classified as hardy perennials, which means that they come back every year and hold up well in colder conditions. Crocus bulbs continue to grow in popularity, not least because they are among the easiest of the fall planted bulbs to cultivate.
WHEN TO PLANT CROCUS BULBS
Plant crocus bulbs in fall, six to eight weeks before a hard frost is expected and when soils are below 60 degrees F. This is usually during September and October in the North, and October and November in the South.
WHERE TO PLANT CROCUS BULBS
Crocuses prefer sunny spots, but will also usually tolerate some filtered shade. As crocus bulbs are typically planted by the hundreds or thousands to produce a lush ground cover or border, plant the bulbs very densely to achieve maximum effect. The standard planting recommendations are 2 or 3 inches apart and 2 or 3 inches deep. If planting a large area, we recommend digging light trenches and spacing the crocus bulbs in compact rows. The crocus bulb (or corm) should be planted pointy side up and root side down.
HOW TO PLANT CROCUS BULBS
Once placed in the soil, we recommend adding some fertilizer and/or bulb food to the crocus bulbs. It's also helpful to water moderately until frost. If your soil is reasonably rich and well drained, these final steps are not required, but as with all flower bulbs, crocus bulbs will usually reward a little TLC" in the fall with bigger and bolder bloom come springtime.
HOW TO CARE FOR CROCUS BULBS
Once planted, they require little or no maintenance or upkeep. Crocus bulbs need not be disturbed for some years. In fact, as long as they flower freely, unless an increased stock is desired, they should be left alone. The other primary beneficial attribute of crocuses is that they are incredibly early bloomers – even emerging sometimes through snow as an audacious harbinger of spring!