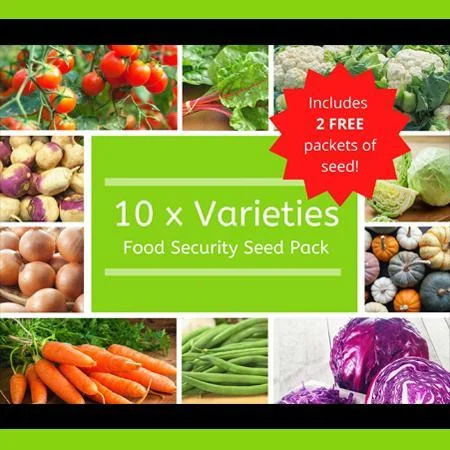 This great starter pack includes 10 different individual packets of vegetable seed packets to provide gardeners with a basic range of hardy and popular vegetable varieties.Varieties include:
1 x Tomato (200 seeds)
1 x Bush Bean (30 seeds)
1 x Pumpkin (15 seeds)
1 x Carrot (50 seeds)
1 x Onion (20 seeds)
1 x Pepper (20 seeds)
1 x Silverbeet (30 seeds)
1 x Cauliflower (20 seeds)
1 x Red Cabbage (50 seeds)
1 X Spring Onion (80 seeds)
And because we are passionate about Food Security and believe everyone should have a good supply of seeds, as an added BONUS each Food Security Seed Pack purchased will include 2 x surprise vegetable seed packets – FREE of charge. That means you receive 12 individual packets of seed for the price of 10! And the complete Food Security Pack includes over 1,500 vegetable seeds!
The varieties in this pack are a combination of root crops, leaf crops and fruiting crops. Each variety has been chosen because it is a consistent and reliable performer across a range of growing conditions. All seeds are traditional and heirloom varieties (non-hybrid, non-GMO) all of which have been cultivated and grown for more than 50 years. This also means that you can save your own seeds from every variety you grow and continue to be food secure in the future.
Postage and handling per 10 pack is Free. Our seeds are packed and delivered in waterproof padded packaging.