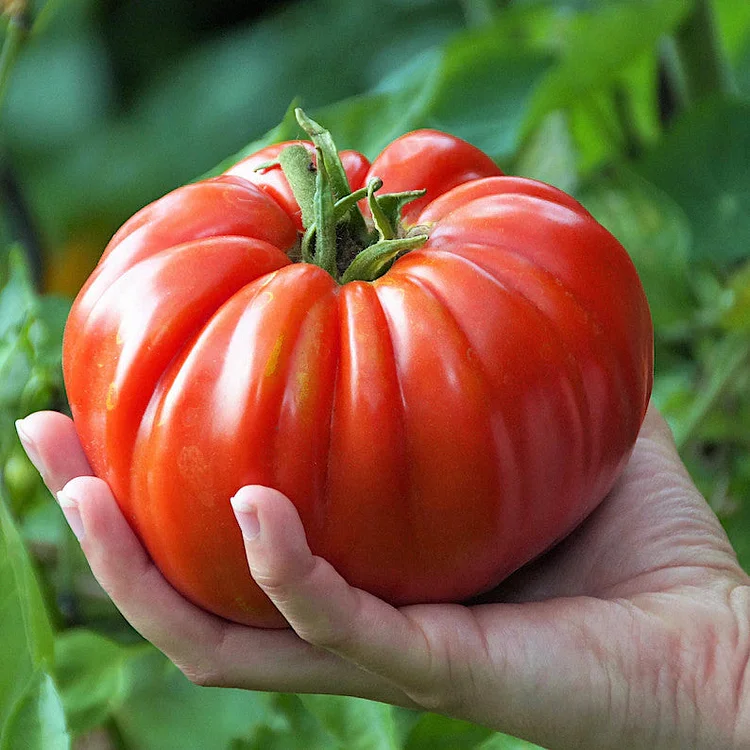 🎁📦
Due to COVID-19, our postage costs have gone up. If you want a more affordable price, we suggest you buy more (buy more save more ), buying individually may not be as cost effective. 85.95% of buyers choose to buy 3 or more. Buy 3 save 15%, buy 4 save 20 %+Free Shipping All Over The World

🎁📦

Buy 2 or more to receive discount
| Minimum Qty | Discount |
| --- | --- |
| 2+ | 10% Off |
| 3+ | 15% Off |
| 4+ | 20% Off |
| 5+ | 25% Off |
Medium early variety. Fertile for cultivation in foil tunnels and in the ground.
THE PACKAGE CONTAINS FROM 20 Seeds
This variety is perfect for direct consumption and preserves. It forms very largely ( 20 cm in diameter ), strongly ribbed fruits that reach a weight of approx. 500 g, up to 2 kg in very good conditions. The fruits are very fleshy, red in the ripeness phase with a high dry matter content.
Recommended for direct consumption. Tomatoes slices are suitable for grilling, for sandwiches, for hamburgers. Fruits can also be used for processing.
Sow tomato seeds indoors in mid-III or early IV to boxes or pots.
Start sowing tomatoes in a seed-starting formula, light potting soil. After you have spread the tomatoes seeds, cover them with a fine layer of potting soil. Place the pot in a warm spot in a bright place. You should see seedlings in about 7 - 14 days. Keep the soil gently moist as the seedlings grow. Always water the pot from below. Watering from above can damage fragile new plants. Keep the soil moist. Seedlings do not need much fertilizer.
Remember the tiny tomatoes plants should have two sets of "true" leaves, then they are ready for solo planting. Grow them in a sunny and warm place until they are large enough to be planted outside.
Tomatoes plants need to be hardened off. Accustom young plants to outdoor conditions by moving them in April to a quiet not windy place in your garden. At first, leave them for a couple of hours, then for all day. This hardening-off process reduces transplant shock and leaves scalding.
Planting seedlings in the second half of the V.
You can also sow tomatoes seeds directly into the ground after May 15.
By choosing our shop you will get premium seeds in original packaging.
Shopseedusa Tomato Seeds
All our seeds are testing for germination.
100% Natural
GMO Free
Organic
Package: 20 Seeds