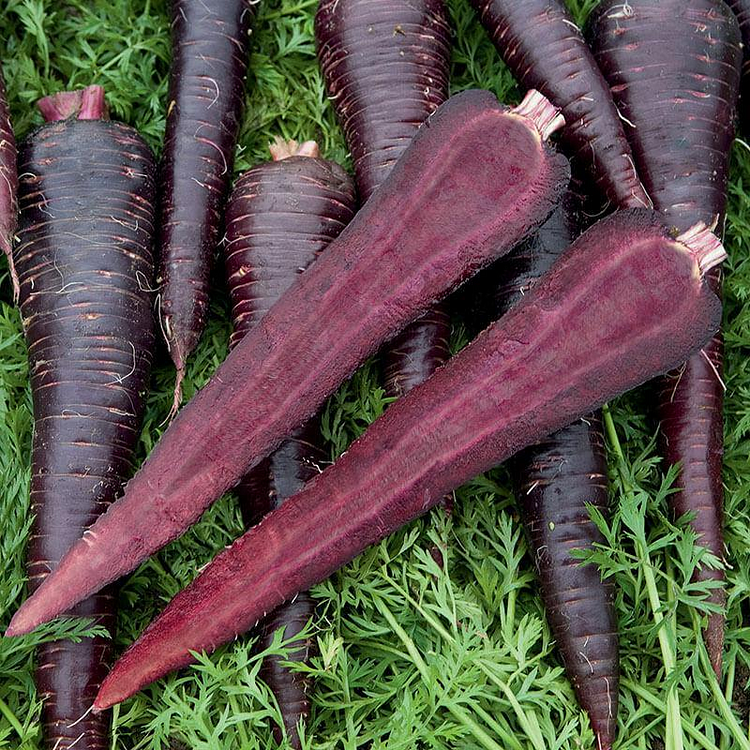 95-100 Days. Amazing color and flavor! Potentially the world's richest plant-based source of anthocyanin, this carrot from India is so rich in the dark pigmented antioxidant that the roots are practically black! It is especially well suited for the South and performs better than other carrots in extreme heat, though it tastes better when harvested in the fall or winter. Its flavor is richer and sweeter than a regular "orange" carrot, and the color deepens as carrots mature, even bleeding like a beet when cut. Beautiful and delicious!
95-100 Days

Full Sun

Sprouts in 12-18 Days

Seed Depth: 1/8"

Ideal Temperature: 50-75 F

Plant Spacing: 2-3" 

Frost Hardy: Yes

Daucus carota
Packing: 100 seeds
Growing Tips: Carrots require light and fluffy soil in full sun, adequate moisture but only average fertilizing. Surface sow; press in gently and provide consistent irrigation. Best in cooler weather.