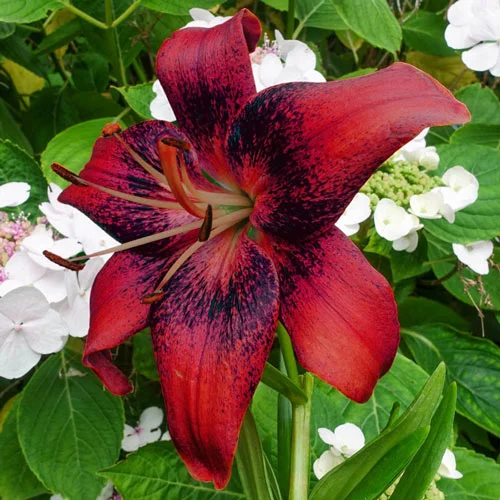 Strawberry Event boasts some of the biggest and brightest lilies of its kind. It gladly offers up its 5–7" bright red flowers on stately stems that reach an impressive 4' tall, making them ideal for back borders or cutting gardens. A liberal sprinkling of black freckles dot each lily's face and, combined with slightly reflexed petals, give the bloom a highly dimensional look. A must for the discerning gardener or anyone who enjoys elegant flowers in a decidedly dramatic hue. And thanks to Strawberry Event's strong growth habit, there are plenty of blooms to be had. 
Botanical Name:

Lilium asiatic 'Strawberry Event'

Form:

Bulb

Hardiness Zone:

3-8

Flowering Time:

Early to midsummer

Light Requirements:

Full Sun, Partial Shade

Flower Color:

Bright red flowers with peppered black

Flower Form:

5-7" sideways facing flowers with the typical lily-shape. Petals gracefully curve backwards.

Foliage Type:

Narrow, long lance-shaped leaves.
Height/Habit:

4 feet

Spread:

9 - 12 inches

Planting Instructions:

6" deep and 9-12" apart

Soil Requirements:

Prefers well drained soil, but will tolerate heavier soils.

Will Tolerate: 

Acidic Soil, Clay Soil, Loamy Soil, Sandy Soil

Pruning:

Don't remove leaves until they have died down in fall. They help provide nourishment to the bulb for next season's blooms.