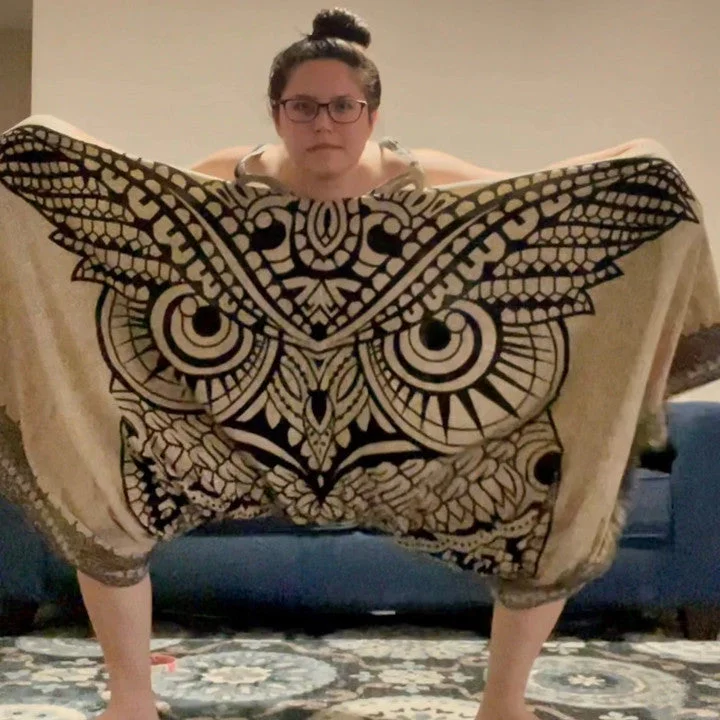 Flattering, flowing, and fierce, this outfit has it all with a sharp look to both ruffle your enemies' feathers and simultaneously welcome your companions into the nest. This 100% cotton jumpsuit is beautifully breathable - perfect for flying with your parliament on sweet summer nights. 
The fabric drapes loosely over your body, allowing you to conceal and camouflage yourself, stealthily going about your day until you need to spread your wings and attack.
Bonus: It has pockets for all of your forest treats. Or your keys. 
Sizing
One Size Fits Most from XS to XXL / US: 6/8/10/12/14/16/18/20
Inside model is a 5'4" moon mom who uses the jumpsuit to make TikToks late at night in an attempt to attract like minded creatures. 
Model on the pavement is a 6'9" ostrich owl who watches over their peers protectively. They are wearing a That Owl Face Dress.
Model taking the high ground is a 5'8" long-legged owl. She is wearing a That Owl Face Jumpsuit. 
Care Instructions
* Hand wash in cold water and then hang to dry. 
* Iron the item inside out to preserve color.